Diversity and multiplicity are intricately blended in the Indian culture. Travel any part of the country, you only get to see entirely distinct landscapes yet incredibly assimilation among people. Different parts of India have different tales to tell. That is, just like Northern and Southern regions have their distinctive features, Central India is equally fascinating, if not more. Because of unique culture, incredible traditions, and varied natural beauty, Central India tours are becoming popular these days.
To make this experience even more enriching, State Express plays a vital role by helping you to design the best possible Central India tour itinerary or Madhya Pradesh tour. It is one of the well-known travel agencies in India which offers a high standard of customer experience. Over the years, State Express has earned a reputation of an exceptional tour operator with a highly professional service. It provides budget-friendly and personalized Central India tour packages. In general, it offers a wide range of packages that are affordable as well as attractive.
One such interesting place that lies in central India, which you may not have heard us is Mandu. This small town in the state of Madhya Pradesh holds a significant historical value! If you are planning to explore the heart of India, visit Mandu in Central India Tour should be your obvious choice. Its captivating sightseeing and enthralling past will make this journey a truly memorable one.
Emperor Jehangir who traveled all the way from Delhi to spend time in Mandu wrote "I Know of no place so pleasant in climate and so pretty in the scenery as Mandu during the rains."s
Mandu, an ancient fort city, is a symbol of celebration in stone of life and joy, of the romance between Prince Baz Bahadur and beautiful Rani Roopmati. Perched at an altitude of 2,000 feet, Mandu, was originally the fort-capital. Towards the end of the 13th century, it came under the dominance of the Sultans of Malwa, who renamed it Shadiabad, meaning the city of joy!  The beauty of Mandu is enhanced by lakes and ponds that intersperse on the top. This is probably the reason why the city, enclosed within its fort-walls, was called by the Muslim rulers as Shadibad, 'The City of Joy'. The location and cultural heritage of Mandu makes it an important city for Madhya Pradesh tours.
2. Mandu: Testimony of the legendary romance of Rani Roopmati and Sultan Baz Bahadur
Mandu is known to have witnessed a great love story that bloomed between Prince Baz Bahadur and Rani Roopmati, two lovers who couldn't be together. Sultan Baz Bahadur was the last autonomous ruler of Mandu. Once when he went shooting, he chanced upon a shepherdess, Roopmati, dancing and singing with her friends and Baz Bahadur who loved music, was instantaneously smitten by the singer's beauty and her melodious voice. He begged Roopmati to accompany him to his capital, Mandu and Roopmati agreed to go on one condition that she would live in a palace within the sight of her beloved river Narmada. This was built the Rewa Kund at Mandu.
Unfortunately, the romance between the sultan and the shepherdess couldn't last forever as the great Mughal Akbar decided to invade Mandu and sent Adham Khan to capture Mandu. Baz Bahadur with his small army lost the battle to the great Mughal army and thus, Mandu was captivated. Adham Khan fell for the beautiful Rani Roopmati and to avoid capture, Roopmati poisoned herself. Thus, this magical love story that inspired poetry and folklore came to a tragic end. Call it fact or fiction, the legend lived on!
3. Mandu: Boasts of India's biggest fort, The Mandu Fort

Mandu, now a ruined city, used to be a significant fort at least 1,500 years ago. Mandu Fort is one of India's largest fort, adorned with spectacular Afghan architecture and bounded by baobab trees, which are native to Africa. With three UNESCO World Heritage Sites, this small central Indian town already has a significant place on the tourist map of the country. A rocky hilltop fort with beautiful palaces, beautifully carved temples and impressive tombs, Mandu is the perfect place for time-traveling.
4. Mandu: Houses the monument that inspired the Taj Mahal
Hoshang Shah's tomb is said to be the inspiration for the construction of the Taj Mahal of Agra. The white marble tomb is an artifact of the mixed architectural and cultural blend of Hindu, Muslim and Afghan style. It has a beautiful dome, amazing marble work, porticos, courts, and towers. It is said that Shah Jahan, the emperor who built the Taj Mahal, visited the tomb and was amazed by its beauty and had, therefore, sent his architects to study the design and draw inspiration from the Tomb. Among them was Ustad Hamid, who was involved in the construction of the beautiful Taj Mahal.
5. Mandu: Shelters numerous ancient Afghan architectural wonders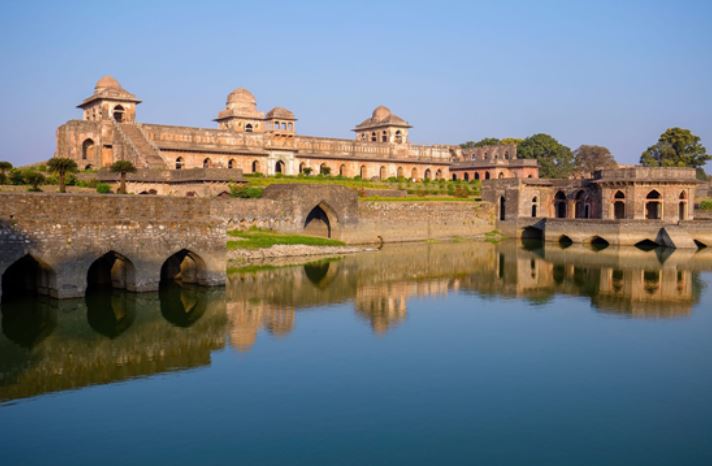 Mandu is an embodiment of architectural brilliance. This ancient city of India was historically governed by both Hindu and Muslim rulers and therefore both the cultures and faith reflected in the architecture of the old monuments. Mandu has seen dynasties rise and fall, which is clearly accounted through some of its ruined palaces and embankments. One of the most famous buildings in Mandu is the Jahaz Mahal, also known as the 'Ship Palace'.  This palace is built on a narrow stetch of land surrounded by a lake and appears like a ship that is ready to sail. Made of stone and mortar, this ship-shaped palace is still floating and remained a quiet witness of the city's history for centuries.
An extensive Madhya Pradesh tour will help you understand more of such interesting and historic tales of kings and queens.
Click here to get details on Central India Tour:  https://www.stateexpressindia.com/central-india-tours/