India Tour Operator in Delhi
India is a unique destination with its diverse landscape, culture, delicious cuisine and a rich history. Travel with India tour operator in Delhi is very different than travelling to any other country in the word. It is a unique experience which enriches a traveller in many aspects of life. State Express is a leading travel company in India. We offer group tours, private tours as well as tailor made package tours to India, Nepal, Sri Lanka, Maldives and Bhutan. Considered by many the best tour operators in India, we have something to suit all style of tours whether travel agents in Delhi is to offer an experience with Luxury Rajasthan palaces and heritage hotels , trekking in Himalaya, wild life tours or just relax on golden beaches of Goa and Kerala or travel in luxury trains. A visit to India with tour operators in Delhi will enchant and captivate even the most seasoned traveller.
Tripadvisor Traveller Rating
Recent Traveller Review:

"Excellent car hire service"
Click here to view and download Explore India Brochure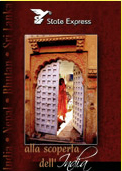 Clicca qui per vedere e scarlcare alla scoperta dell India
Dear Ms.Rinki, We are back to China. Thank you so much for helping us all the time. This is our third time to rent a car by State Express, and it is always a fantastic experience to travel with State Express. Thank Mr.Sanjay (the driver) for providing a good service and we enjoyed all the way. Miss India all the time and we look forward to the next trip to India.
Hello Mr Mamlesh, are Borgioni Germano.
I am writing to thank you and your agency for the organization of the trip, everything perfect both hotels, train and bus driver and assistance during the whole trip. Still wishes for his marriage
Ciao Mamlesh, good morning.
We have returned to Shanghai. We came back to Italy yesteday and anything went well. The trip went very well and your organization was perfect in all. Attached I send you the 'TOUR REPORT' filled out. Thank you again for everything.