Travel to any place in the world and you would come to realize that the most cherishing journey is a journey to a hill station. These remote hideouts are sure to enchant you with their terrific scenery. More than anything, it is the winding roads coursing through shadowy forests that make your journey so gratifying. In India, there are numerous hill stations located in its Southern region which are superb destinations to visit especially during monsoon, the best season to witness the true beauty of nature. Unlike North India, Hill Stations in South India are safe to be traveled during the rainy season as they are far less crowded than hill stations in the North.
If you want ideas regarding the best hill stations in South India for a truly rewarding Hill Stations Tour, take a look at these locations we have picked for an unforgettable holiday.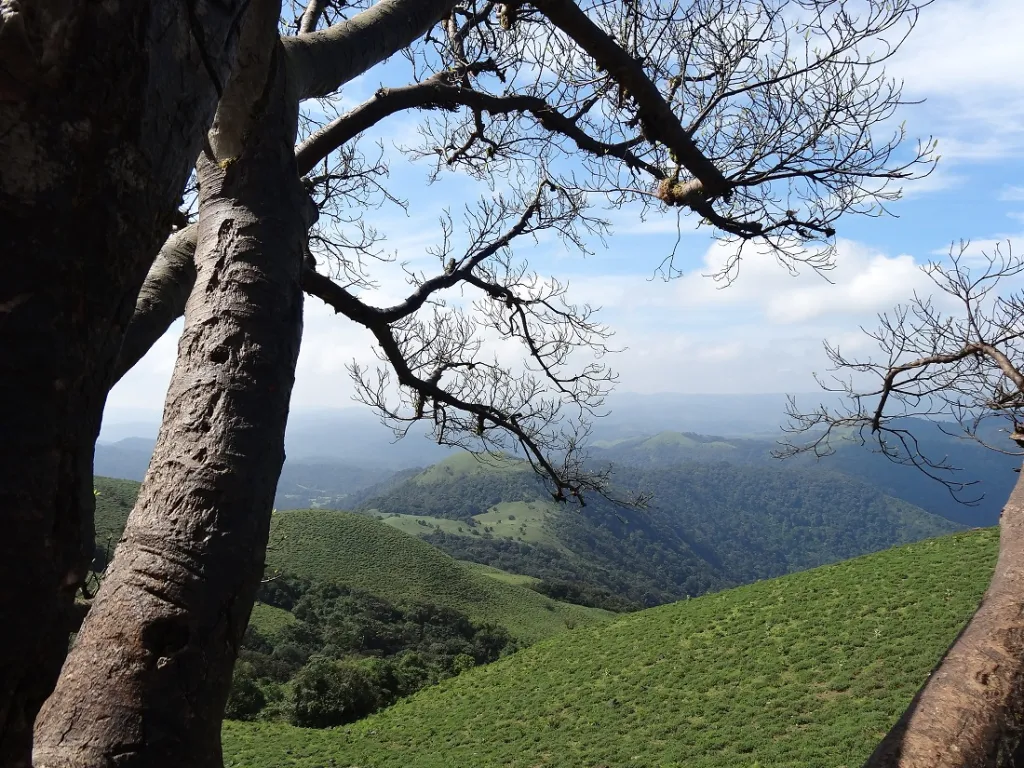 Coorg, the most frequented hill station in Karnataka overwhelms you with its pristine charm the moment you move into this breathtakingly beautiful land. Misty valleys, sandalwood forests, streams and acres of spice and coffee plantations create a heavenly landscape that leaves everyone thrilled. These natural havens also store endless opportunities for adventure enthusiasts like angling, white water rafting and trekking which must be explored for a satisfying experience.
Places Of Interest:
Abbey Falls, Nagarhole National Park, Raja's Seat, Iruppu Falls, Madikeri Fort, Namdroling Monastery, Nalakunad Palace, Gaddige Raja's Tomb.
Best Time To Visit: ( October – April )
Acclaimed for its sprawling tea gardens, cardamom and coffee plantations, the greenery found in this beauteous hill station drenches your soul with unfettered calmness. Soul-stirring views of waterfalls, lakes and far-reaching valleys meet you along the way on your journey into this placid town. It is not just nature that amazes you once you land in Munnar, a plethora of attractions is there to arrest your attention. One such place is Marayoor hamlet famous for its rock-cut structure dating back to the Stone Age.
Places Of Interest:
Mattupetty Dam, Echo Point, Eravikulam National Park, Kundala Lake, Tea Museum, Attukad Waterfalls, Pothamedu viewpoint, Life of Pi Church, Blossom International Park.
Best Time To Visit: ( August-May )
This stunning hill resort located in Tamil Nadu needs no mention as it is a favored getaway for those quiet vacations away from the hustle-bustle. The sight of waterfalls, rivers, mountains, and creeks seen from here are enough to transform your very being. Among the most picturesque tourist attractions of Kodaikanal are lakes, waterfalls, and churches that outnumber those present in other hill stations.
Places of Interest:
Kodai Lake, Green valley view, Bear Shola Falls, Thalaiyar Falls, Silver Cascade Falls, Brayant Park, Silent Valley View, Kodaikanal Solar Observatory, Kukkal Caves, Berijam Lake, La Salette Church.
Best Time To Visit: ( October – May )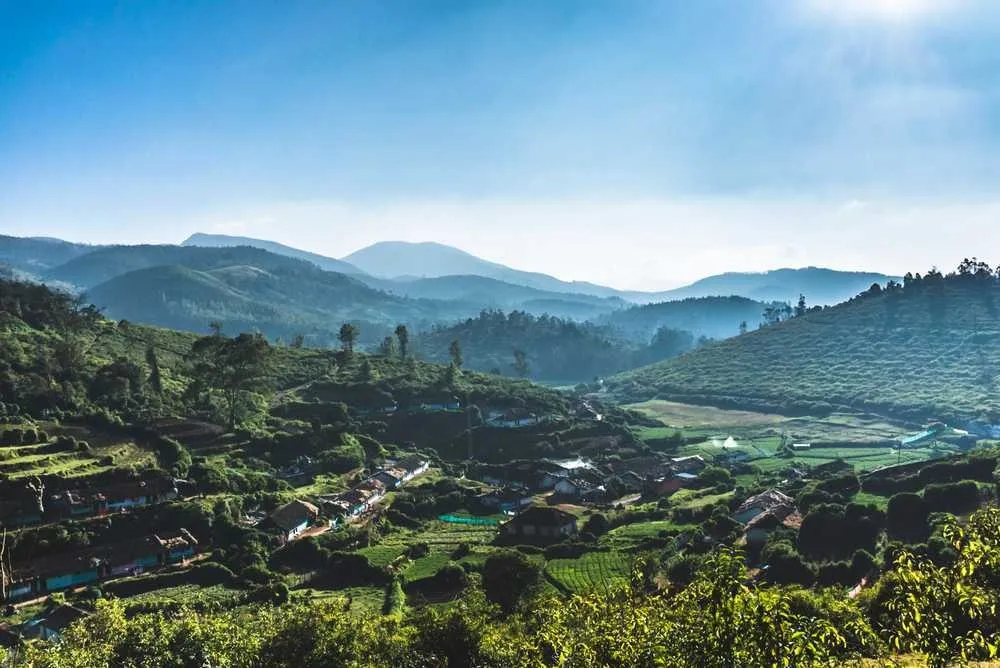 Ooty is a revered hill station in South India that leaves a strong impact on every traveler with its soothing environs. Huddled cozily amid the Nilgiris, it makes for an ideal escape for restless souls. The cliffs, mountains, waterfalls and tea gardens surrounding this pretty hill retreat add a wonderful twist to its mesmerizing scenery. To fully capture all the natural treasures this place has to offer, a ride in the Toy Train is the best bet with South India Tour Packages .
Places of Interest:
Ooty Lake, Rose Garden, Botanical Garden, Nilgiri Mountain Railway, Tiger Hill, Kalhatti Falls, Dolphin's Nose, Thread Garden.
Best Time To Visit: ( October – June )
Those who want a quick escape into the mountains, Yercaud is just the right place to unwind at a much lesser price compared to what it takes to travel to most other hill stations. Also acknowledged as 'The Land of Seven Forests', this hilly retreat located in Tamil Nadu has plenty of avenues for trekkers stored in its cliffs and valleys. Set against the backdrop of the Shevagiri Mountains in the Eastern Ghats, this place is a perfect getaway to take a break from grinding work life.
Places Of Interest:
Yercaud Lake, Rose Garden, Lady's Seat Viewpoint, Pagoda Point, Kiliyur Falls, Gent's Seat Viewpoint, Annamalaiyar Temple, Tipperary Viewpoint
Best Time To Visit: ( October – June )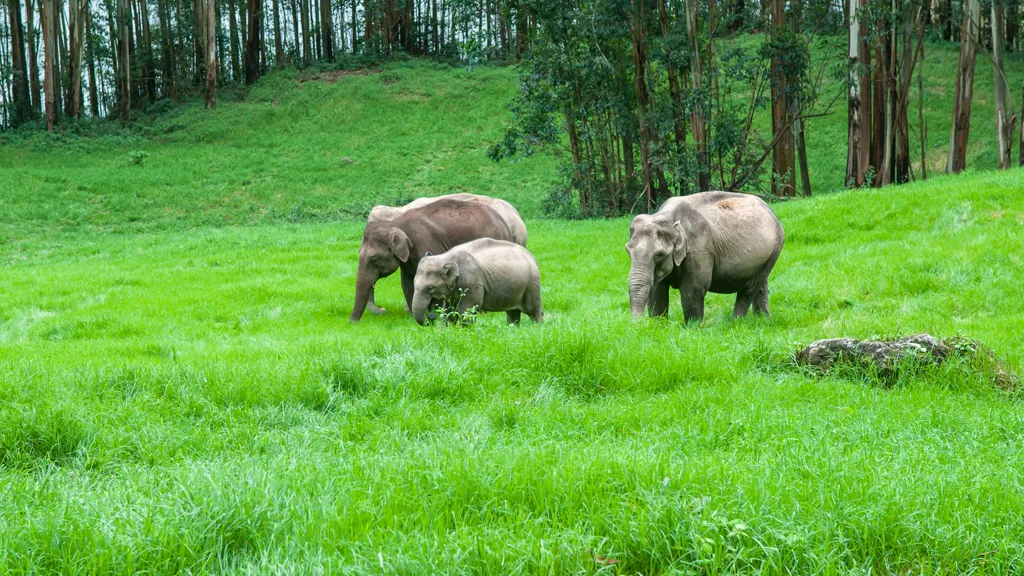 Thekkady is a great location for wildlife and nature lovers to spend a holiday amidst its picturesque gardens and forests. These nature reserves host fabulous wildlife which must be seen to get an overview of the flora and fauna prevailing in the forests of Thekkady. Touring coffee and spice gardens in Thekkady is a must to take in the essence of this particular place.
Places Of Interest:
Thekkady Lake, Periyar National Park, Mudra Cultural Centre, Tribal Heritage Museum, Suruli Falls, Cardamom Hills, Elephant Junction, Valanjankanam Waterfalls, Chellarkovil Viewpoint.
Best Time To Visit: ( September – April )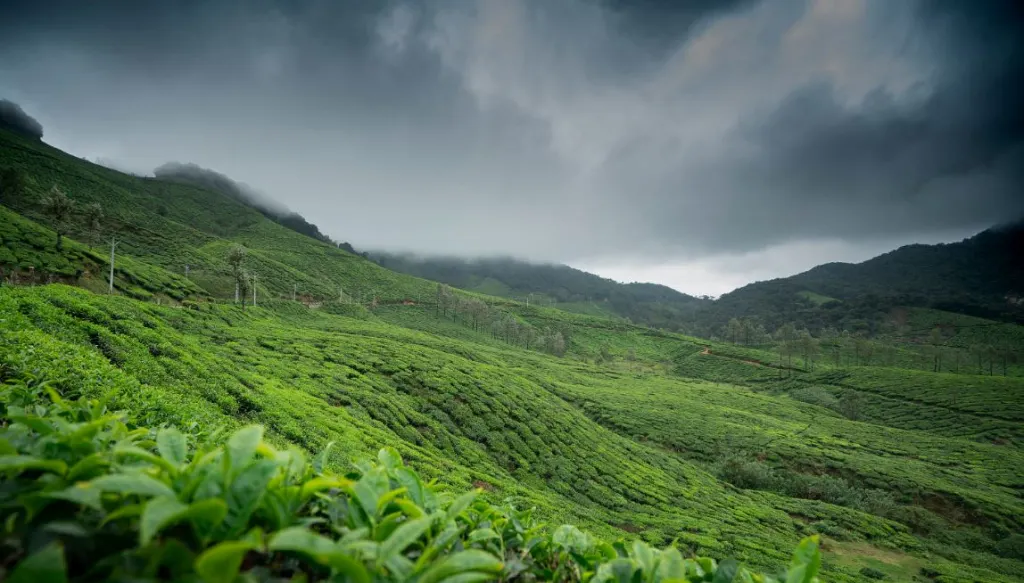 Wayanad is blessed with a multitude of natural gems tucked in its different parts which have a tranquilizing effect on visitors. This hill station surprises you with many gorgeous sites that promise to rejuvenate you with their serene disposition. A treat for trekkers, this bewitching hillock nestled by the Western Ghats in Kerala stores a vast variety of wild animals and plant life.
Places Of Interest:
Tholketty Wildlife Sanctuary, Banasura Sagar Dam, Kuruva Island, Edakkal Caves, Mudumalai National Park, Meenmutty Waterfalls, Pookode Lake.
Best Time To Visit: ( October – May )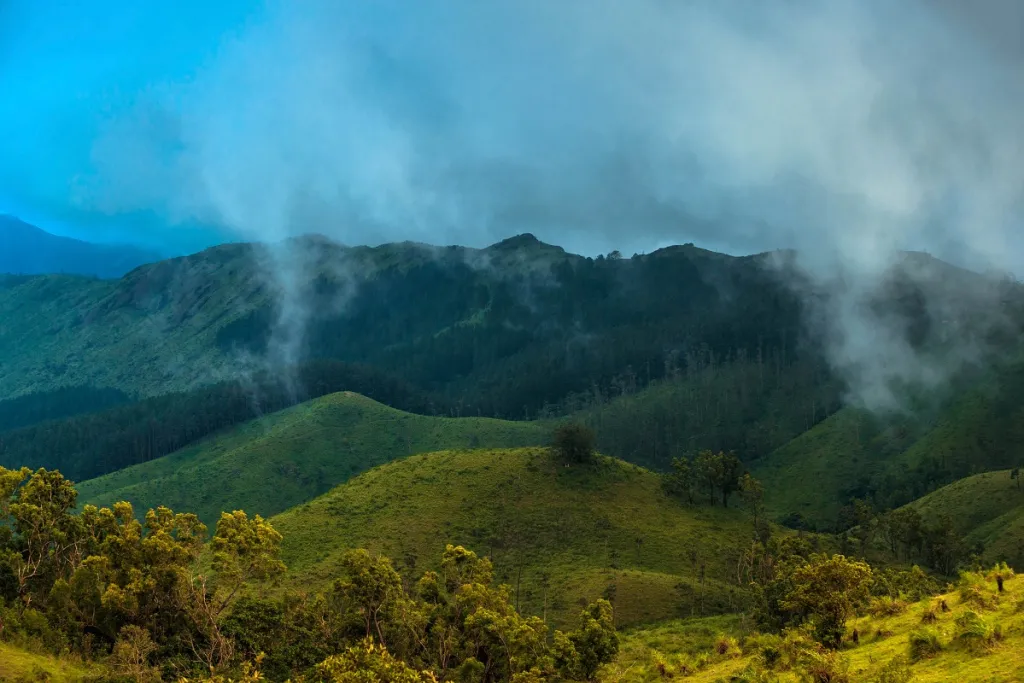 This enchanting hill resort lying in Kerala is known for the immense greenery it surrounds which includes tea gardens, grasslands, meadows, spice gardens, and forests. The churches and temples you come across at different zones while channeling through this heavenly town brings you closer to its religious history. Apart from being a natural paradise, Vagamon is a preferred getaway for thrill-seekers with an innumerable range of adventure activities like paragliding, trekking and bird watching.
Places Of Interest:
Ulipooni Wildlife Sanctuary, Pine Hills, Vagamon Falls, Kurisumala Ashram, Barren Hills, Maramala Waterfalls, Pattumala Church, Vagamon Lake.
Best Time To Visit: ( October – April )
Chikmaglur is one of the prettiest hill stations in India for a calm vacation. The greenery and climate of this place find many admirers who often prefer to extend their stay for up to a week to gather complete experience of the panoramic scenery. The smell of coffee emanating from coffee plantations has a hypnotizing feeling enough to make you hit a cafe to try local coffee. As you tour the interior regions of Chikmaglur with any Car Rental Company in India you can expect to come across a couple of waterfalls that are sure to leave you feeling energized.
Places Of Interest:
Kudremukh National Park, Bhadra Wildlife Sanctuary, Baba Budangiri Peak, Hirekolale Lake, Kallthagiri Falls, Bhadra Dam, Manikyadhara Falls, Z Point, Coffee Museum.
Best Time To Visit: ( September – March )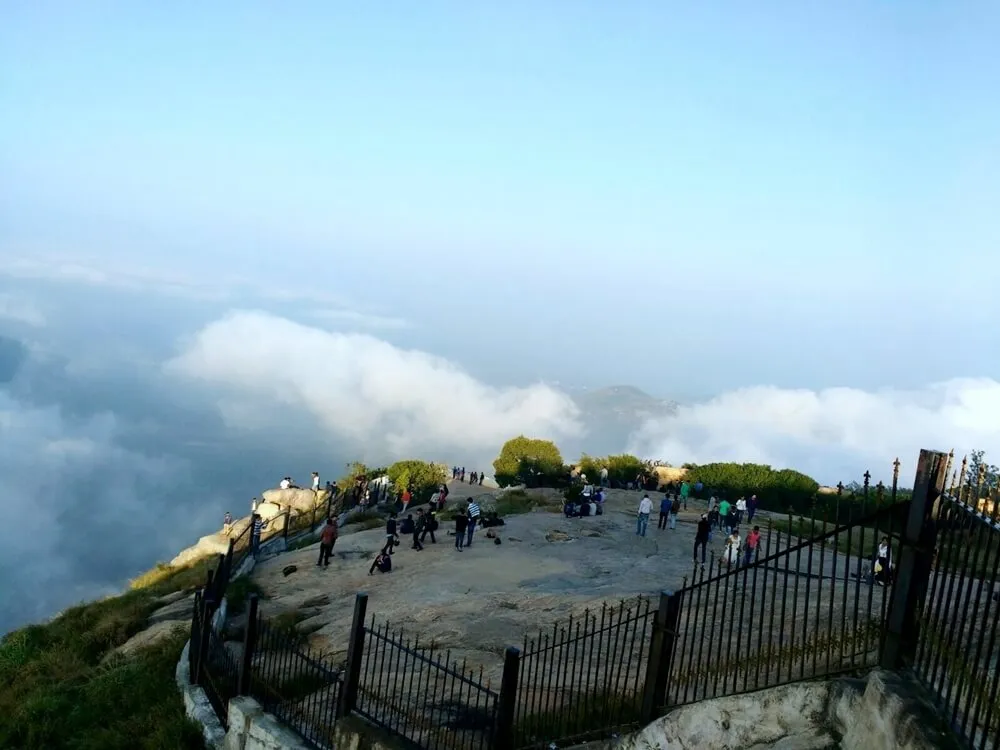 Nandi hills is a superb hill escape in South India Tour for those looking to spend time in solitude away from the noise and pollution of cities. Perched cozily in Karnataka, this hill station is a favored weekend getaway due to its spectacular beauty and unending avenues for adventure sports. This place also owns a prominent position in history as it used to be the summer retreat of Tipu Sultan due to its cool climate.
Places Of Interest:
Tipu's Drop, BhogaNandeeshwara Temple, Amrita Sarovar, Muddenhalli Museum, Nehru Nilaya
Best Time to Visit: ( September – May )