An oasis of natural beauty bestowed in the Himalayas, Ladakh is a place that once visited, remains ingrained in one's memories for a lifetime.
Ladakh is one of rarest place in the world where serenity meets spirituality, tranquillity meets divinity; in other words, heaven meets earth. A trip to Ladakh means experiencing an epic adventure where you immerse yourself into stunning landscapes as well as its incredible culture.
Ladakh packages have emerged out as the new favored travel destination among both types of travelers for Ladakh tourism; the ones who travel time and again, and the ones who do it less but do it in style. It doesn't matter if you are an adventure tourism freak or the one who likes to travel with for the experience, Ladakh has something for one and all and it never disappoints anyone. Ladakh is a travel destination that can tempt a vivid traveler from any part of the world!
Ladakh is a name that you will find on almost every traveler's bucket list; whether it's "to go place" or "been there, done that". Here are some powerful reasons which will compel you to visit the place again and again:
1. Enjoy the snow and mountain in the rawest form possible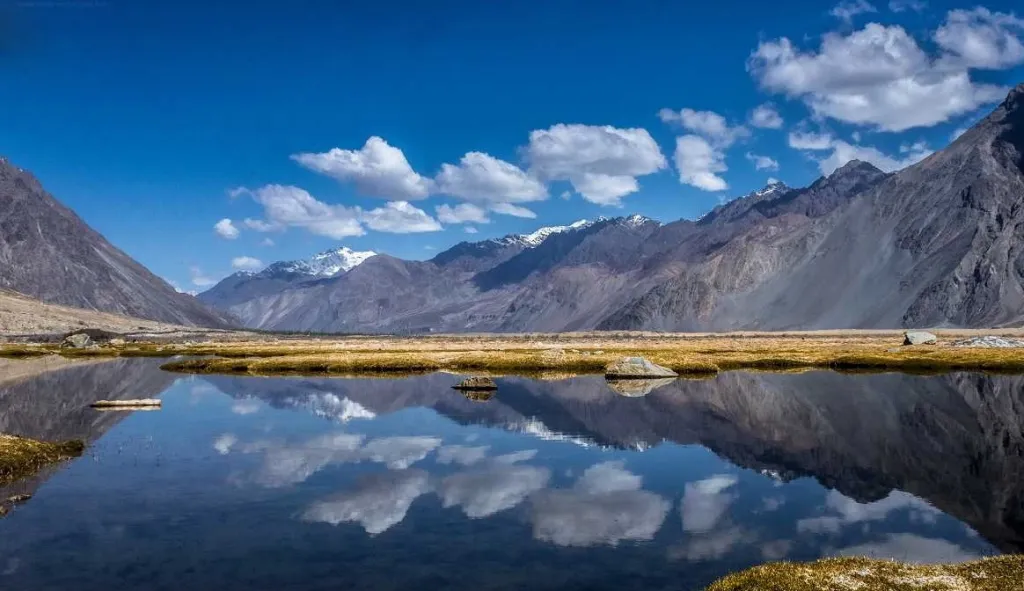 A wild, rugged, yet breathtakingly astounding terrain of Leh-Ladakh will mesmerize your senses at every instant. It's a place that is free from urban throes, a land that is timeless, and a region that is surrounded by alpine desert and a long snowclad mountain range of Karakoram. State Express Ladakh tours take you to an unforgettable journey, that will show you rare glimpses of mountains, valleys, lakes, and enchanting roads. The place gives you a chance to be one with nature when you forget all your worldly issues.
2. Satiate all your cravings for an adrenaline rush
Ladakh is any adventurous lover's dream-come-true. Safari, trekking, camping, mountain biking, rock climbing, paragliding, quad biking, river rafting– you name any adventurous activity and you will find it in Ladakh, the adventure capital of the country. White water rafting on the Zanskar River is one of the most popular activities. Besides, if you want to test your driving skills, you can take the wheel and drive to the top through one of the highest roads. Ladakh is surely the best tourist destination for those who love adventure activities that pump adrenaline into the brain!
3. Lose yourself in the mystical ancient monasteries steeped in age-old traditions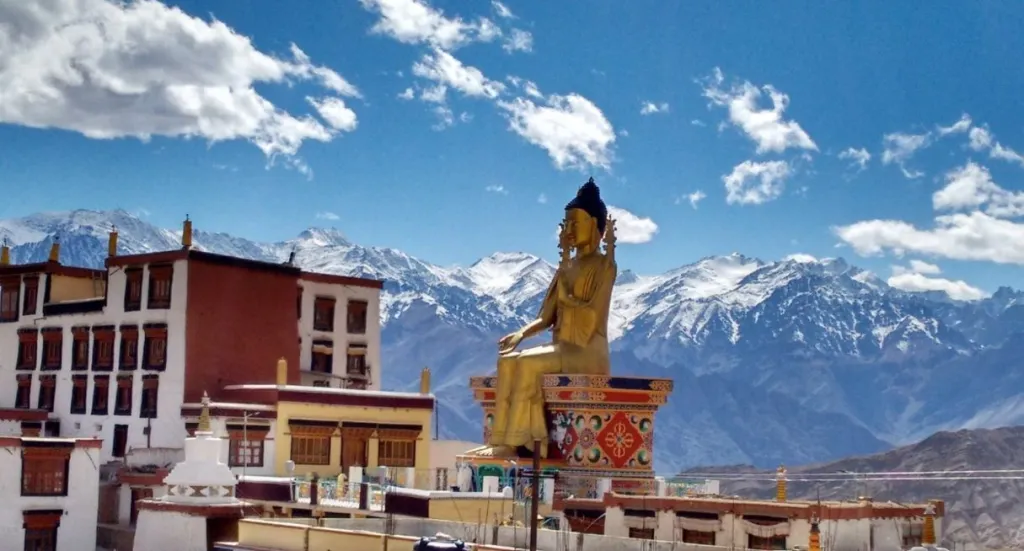 One of the main attractions of our Leh – Ladakh tour is that you get an opportunity to visit some of the most incredible Buddhist Monasteries. These Buddhist centers are like purifying havens where you can acquire spirituality and find inner peace.
These monasteries still hold the Buddhist culture and heritage alive in the form of thankas, murals, sculptures, and scriptures. The most exciting aspect of Ladakh Monasteries is their location as most of the monasteries are located on the hilltops in isolation encompassed by the natural backdrop while overlooking the settlements below.
The top monasteries of Ladakh are: Hemis Monastery, Thiksey Monastery, Diskit Monastery, Likir Monastery, Spituk Monastery, Stakna Monastery, Alchi Monastery, Phyang Monastery, takthok Monastery, etc.
4. Witness the spellbinding sunset over the beautiful shimmering waters of the Tsomoriri Lake
Tsomoriri Lake in Ladakh is a high altitude mountain lake, beautifully located in a secluded breathtakingly charming Rupshu Valley. The lake is surrounded by barren hills, with the backdrop of beautiful snow-covered mountains. Tsomoriri Lake is a twin to the famous Pangong Lake, but with a much lesser crowd. This beautiful lake also makes for an impeccable star gazing sight. Even though you might feel tempted to include Tso Moriri in your trip to Leh Ladakh. Ladakh guided travel packages will ensure to offer the best tour itinerary to cover the most interesting places in Ladakh.
5. Unlock some of the most exotic hidden destinations in the Himalayas
Ladakh is well-known for its large number of glaciers, some of whom are near impossible to overcome. These humongous mass of frozen snow, feed many rivers in India and the subcontinent. A chance to visit these glaciers could transform your journey into a cherished expedition. Apart from glaciers, Ladakh is also famous for its Himalayan passes. Experience the adrenaline rush as you ride over the highest motorable civilian pass; Khardung La Pass. The Khardungla Pass and Chang La Pass offer panoramic sights of such exquisiteness and mystique that is far from imagination.
6. Lose yourself in the unearthly beauty of Nubra Valley
Wish to experience the ride of double-humped camels? Then Nubra Valley is the place that awaits you with its dunes and camels. There are sand dunes, orchard, monasteries, a ruined palace and a whole different culture to discover.  This high altitude valley in the tranquil region of Leh – Ladakh serves as the ideal place for the finest serene trekking routes as well as a few ancient Buddhist monasteries, Nubra Valley in Ladakh has something for everybody.  It is necessary for a tourist to acquire certain permits for entering, and State Express takes care of all these permits for you and makes sure you have the most comfortable stay.
7. Experience a slice of culture and history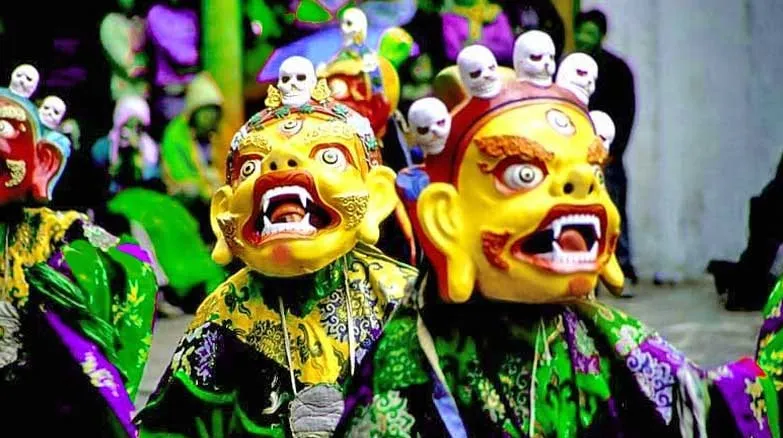 Leh-Ladakh is not only famous for its enchanting beauty but also boasts of being rich in culture, and tradition. It is an ideal place for experiencing the history that is different from other parts of the country. This place houses countless ancient monasteries, museums, palaces, festivals, lip-smacking cuisine, beautiful distinct clothes, language and friendly locals which compels tourists to visit Ladakh.  Ladakhis celebrate various festivals: Hems Tse-Chu, Dosmoche, Losar, Sindhu, Darshan, Tak-Tok, etc.
We, at State Express, have well designed Ladakh Tour packages to give you the best experience and gives you an opportunity to come across the best of the culture of the region.
To know more about the famous Hemis festivals, visit:- Hemis Festival Ladakh Tour.
There are many more reasons that no one should ever miss the chance of visiting this Paradise. So, be a part of an unforgettable travel story with us and book customized Ladakh packages!